Party Rental Delivery Information
All Summer Long Rentals provides party rental equipment deliveries to Baytown Texas and its surrounding communities like Anahuac, Beach City, Cove, Crosby, Dayton, Deer Park, Hankamer, Highlands, La Porte, Mont Belvieu, Wallisville, and Winnie. Please note that this is a partial list of towns and communities we serve, so if you do not see your specific location listed and would like to know if delivery is available for your party address, please contact us at (281) 723-9719 and we will be happy to assist you.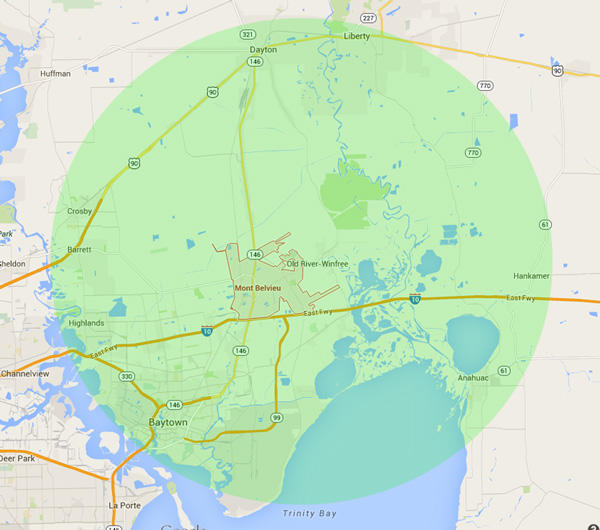 ADDITIONAL FEES
Keeping a dry rental overnight, - $60 (+tax) per unit
Setting up on concrete - $50 (+tax) per waterslide unit (at our discretion)
Setting up on sand - $150 (+tax) per unit (more sand than grass)
Returning to site due to unpreparedness – $50-$150 (+tax) depending on distance.
Traveling over 20 miles from our location - $50-$125, depending on distance.
Approximate set-up is 30 minutes to 1.5 hours, depending on the unit which you rent. Our schedule is very precise; so, please be mindful of the renter after you. Your timeliness helps us to meet the schedule of all of our customers. In the event of your unpreparedness, we reserve the right to continue our schedule and come back to you later. At this time, you will be required to submit a trip fee for our return. Please make sure that 1) payment is promptly made in full upon our arrival, 2) our pathway to the set-up site is clear, and not obstructed by objects or vehicles, 3) you know exactly into which spigot and power outlet(s) we will connect (outlets with the sufficient 20-amp per blower rating), and 4) there is nothing underground that can be punctured by our stakes.